International Partnership Day 2022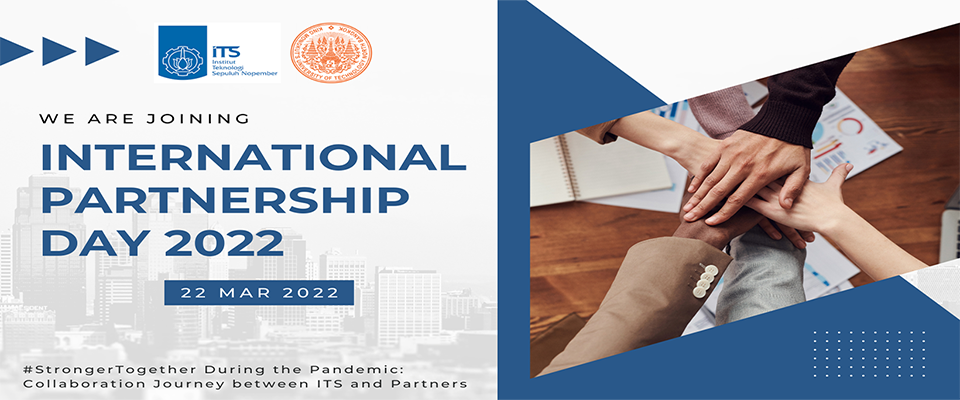 On 22 March 2022, Institut Teknologi Sepuluh Nopember (ITS), Indonesia established the virtual meeting to discuss in the theme of #StrongerTogether During the Pandemic: Collaboration Journey between ITS and Partners. In this event, Assoc. Prof. Dr. Pichet Sriyanyong, Dean of the International College the representative of King Mongkut's University of Technology North Bangkok was honored to be invited to be a speaker during the talk show session.
In this session, the representative of each institution will have the opportunity to share their experiences, strategies, and policies on operating their activities and to continue to build partnerships in the future amid the pandemic crisis.
In this regard, KMUTNB has been in academic cooperation with ITS for a long time which aims to develop the strong working relationships between both institutions as following activities:
Exchange of faculty members (academic and non-academic staff) and students
Collaborative research activities
Participation in seminars and academic meetings or conferences
Special short-term academic programs such as training courses and projects
Exchange of academic materials and other information
And from the academic cooperation of both institutions, this gives the students and faculty members of International College a chance to do activities with ITS every year. For example, CommTECH Camp that provide an opportunity for university students and professionals from across the world to expand their knowledge in the community and global issues through a variety of activities. Not only being a platform for the participant to discuss, exchange ideas and develop a mutual goal for the future of the global community, but the program also offers an insight into the Indonesian culture and language.
In addition, the International College has been honored by Prof. Dr. Nyoman Pujawan for being a special lecturer for a block lecture in land transportation subjects which makes students learn and gain experience from the experts from abroad every year.